ENGIE Solutions is a major actor in Paris Basin geothermal activity. It operates 11 geothermal district heating, delivering more than 500 GWh and has 6 DH to come. Today, it loads 130 MWth installed capacities, 100 000 housings heated and more than 25% of the geothermal heat in Paris basin.
Early 80's, ENGIE Solutions was one of the first explorer of geothermal Dogger resource in Paris Basin. Since 2013 ENGIE Solutions has invested more than 200M€ in Geothermal activity.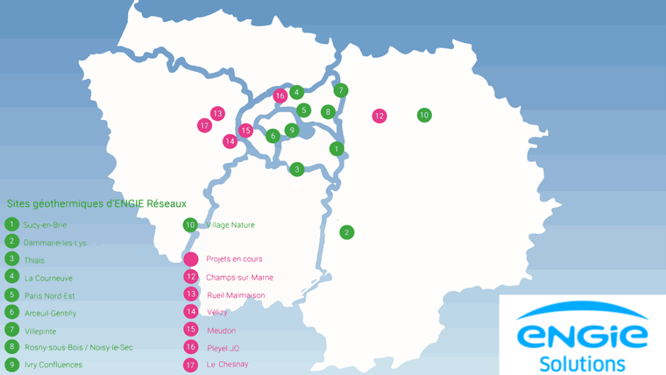 ENGIE solutions uses a real unrisking methodology thanks to :
A geosciences Team focus on geothermal design
Geothermal Project development expertise,
Partnership contracts for procurement and secure CAPEX,
Construction management process (design, built),
Geothermal heating O&M "Geothermal Club" of 30 persons with Return of Experience,
ENGIE Solutions aims to develop its geothermal activities by developing 15 new Geothermal DH for 2030 in France and Geothermal Power Plants Overseas.
To succeed ENGIE Solution develops a strategy :
Explore new resources in the national territory,
Makes a geothermal project "as a service" for your client,
Optimization of project design,
Reduce CAPEX and geothermal OPEX ,
ENGIE Solutions imagines the future of geothermal district heating by bringing together Institutions, cities, clients, neighborhood, schools, students and medias, to discover their projects through drilling sites visits, public meeting, project websites, press releases and crowdfunding.